Foreign Secretary meets Iranian Foreign Minister
Foreign Secretary William Hague met Iranian Foreign Minister Salehi briefly at the latter's request in the margins of the Heart of Asia Conference on 14 June.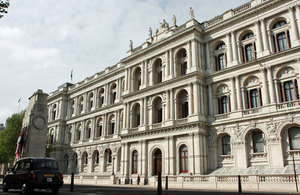 The Foreign Secretary recalled the expulsion of Iranian diplomats from London last November following the assault on the British Embassy in Tehran. We had reduced representation to the lowest level consistent with the maintenance of formal diplomatic relations. We hoped that both Iran and the UK could move soon to confirm the appointment of formal Protecting Powers in each others' capitals.
The two Ministers discussed the E3+3 negotiations with Iran over its nuclear programme. The Foreign Secretary told Minister Salehi that the E3+3 were sincere and united in their approach to these negotiations. On 22 May in Baghdad the E3+3 had made a credible offer to Iran. The onus now was on Iran to respond in concrete terms. If Iran took concrete steps, the international community would reciprocate.
On Syria the Foreign Secretary urged Iran to use its influence in support of full implementation of the Annan Plan.
Published 14 June 2012