Foreign Secretary meets Indian Foreign Minister
Foreign Secretary William Hague said after his meeting with Indian Foreign Minister SM Krishna, "India remains an essential partner and our co-operation benefits both our countries."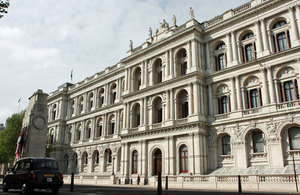 Foreign Secretary, William Hague, met Indian Foreign Minister, SM Krishna, today. The two agreed that the bilateral relationship between India and the UK had been substantially strengthened since the Prime Minister's visit last year, and they welcomed the increased bilateral activity across a wide range of areas, including education. They also discussed key foreign policy issues.
The Foreign Secretary said:
"I was delighted to meet Mr Krishna here in London. Our discussion reflected the excellent UK-India bilateral relationship and we talked about how to further our enhanced partnership across the board. We also talked about the range of international issues, including recent threats against Aung San Suu Kyi in Burma and India's welcome contribution to development in Afghanistan. India remains an essential partner and our co-operation benefits both our countries."
Published 30 June 2011