Press release
Foreign Secretary meets Hong Kong Chief Executive in London
The Foreign Secretary discussed cooperation on global health, finance and education with Hong Kong Chief Executive CY Leung, during his first official visit to the UK.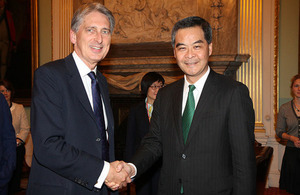 The Foreign Secretary and Chief Executive talked about the importance of Hong Kong's high degree of autonomy under the Sino – British Joint Declaration on Hong Kong. The Foreign Secretary stated the UK's belief that universal suffrage is the best way to guarantee Hong Kong's stability and prosperity and to build confidence in the future of 'One Country Two Systems'.
The Foreign Secretary, Philip Hammond, said:
The UK is firmly committed to maintaining Hong Kong's prosperity, stability and way of life, and supports a rebuilding of trust and a renewed dialogue towards democratic reform, in line with the Basic Law.

Hong Kong and the UK share the same commitment to making global trade easier and more transparent. As two of the most important global financial centres, London and Hong Kong are pivotal to the world economy. We discussed the Chief Executive's vision for Hong Kong as an international gateway to mainland China and Chinese investment in the UK, already the primary European destination for Chinese Foreign Direct Investment.
They witnessed the signature of a Memorandum of Understanding on Health Co-operation, and noted the important role of UK companies in the Hong Kong Government's ambitious 10 year infrastructure programme spanning transport, healthcare, sport and culture.
Mr Hammond and Mr Leung also talked about the UK and Hong Kong's close cooperation on education – the UK is the leading English speaking destination for Hong Kong school pupils and undergraduates.
The Foreign Secretary highlighted the exhibition in November of the original 1217 Magna Carta in Hong Kong, as part of a global tour.
Further information
This is the Chief Executive CY Leung's first official visit to the UK since taking office in 2012.
The Basic Law: This is the constitution of the Hong Kong Special Administrative Region, which came into effect on 1 July 1997.
'One Country Two Systems': Under the 1984 Sino-British Joint Declaration, China committed that the Hong Kong Special Administrative Region shall enjoy a high degree of autonomy; be vested with executive, legislative and independent judicial power; and that the capitalist system, lifestyle and rights and freedoms held in Hong Kong would remain unchanged for 50 years under Chinese rule. This arrangement is popularly referred to as 'One Country Two Systems'.
UK-Hong Kong Memorandum of Understanding on Health Cooperation: the UK and Hong Kong Governments have agreed to work together on healthcare policy, including on primary care systems, non-communicable diseases such as dementia, and the use of technology in healthcare; and on healthcare protection, including antimicrobial resistance and the prevention and control of infectious diseases.
Follow the Foreign Secretary on twitter @PHammondMP
Follow the Foreign Office on twitter @foreignoffice
Follow the Foreign Office on facebook and Google+
Published 15 October 2015