Foreign Secretary meets Egyptian Foreign Minister
Foreign Secretary William Hague met Egyptian Foreign Minister Dr Muhammad Kamel Amr in London on 22 February.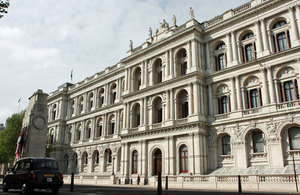 Speaking after the meeting the Foreign Secretary said:
"I was pleased to welcome Dr Amr on his first visit to the UK as Foreign Minister. We had a productive discussion. The UK is committed to a stable, prosperous and democratic Egypt, and I welcomed Egypt's steps towards civilian democratic rule. The UK will do what it can to provide support to this process and on the economic challenges facing Egypt. We also discussed the important role played by civil society in building democracy, and I offered to share the UK's experience of NGO regulation with the Egyptian authorities.
"I welcomed Egypt's substantial work in support of the Arab League Resolution on Syria at the UN General Assembly. We agree about the need for transition in Syria in line with the Arab League plan. We also agreed to discuss developments in the Middle East Peace Process and the threat to regional stability posed by Iran's nuclear programme. I also expressed my gratitude to the Egyptian government for its support in the lead up to the London Conference on Somalia".
Published 22 February 2012