Press release
Foreign Secretary meets Crown Prince of Bahrain
William Hague reaffirms UK support for Crown Prince's reform programme and stresses importance of moving swiftly to implement change.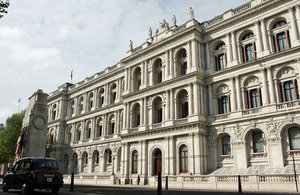 The Foreign Secretary today met HRH Crown Prince Salman bin Hamad Al Khalifa in London.
Speaking after the meeting, the Foreign Secretary said:
I was pleased to welcome HRH Crown Prince Salman bin Hamad Al Khalifa to the UK for the World Islamic Economic Forum. We discussed progress on political reform in Bahrain and I reiterated the UK's support for the Crown Prince's personal commitment to the reform programme.
I welcomed the recent positive steps made by the Government of Bahrain, including the launch of the Office of the Ombudsman for the Ministry of the Interior and the Royal Decree to establish a Prisoners and Detainees' Commission. I also urged the Crown Prince to make sure that all allegations of mistreatment were investigated promptly and impartially.
We both agreed that an inclusive and constructive dialogue was the only way to ensure peace and stability in Bahrain. It is crucial that the right conditions are created to ensure this can take place. I urge all sides in Bahrain to engage fully in this process.
Further information
Follow the Foreign Secretary on facebook and on twitter: @WilliamJHague.
Follow the Foreign Office on twitter.
Follow the Foreign Office on facebook & google+.
Published 30 October 2013