Foreign Secretary meets Chief Minister of the Punjab
Foreign Secretary Wiliam Hague met Shabaz Sharif, Chief Minister of the Punjab, Pakistan on 2 October.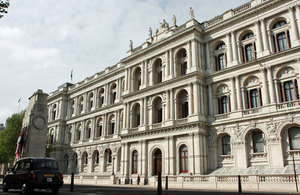 The Foreign Secretary outlined the UK government's long standing support for Pakistan's development and its democratic future. He appreciated the Chief Minister's focus on strengthening trade and business links between the UK and the Punjab.
The Foreign Secretary told the Chief Minister that the UK understands the terrible losses terrorism has inflicted upon Pakistan. The people of Pakistan have our sympathy, understanding, and robust support in addressing these problems. The Foreign Secretary and Chief Minister signed a letter of intent committing the UK government and government of the Punjab to co-operate on counter terrorism capacity building in the justice sector.
Senior Minister of State Baroness Warsi also met the Chief Minister. She recognised that this was a crucial time for Pakistan and looked forward to witnessing elections that are credible and acceptable to the Pakistani people. A strong, stable, constitutional democracy is firmly in Pakistan's interests and will be welcomed by all Pakistan's friends, including the United Kingdom.
Search the news archive
Published 2 October 2012