Foreign Secretary meets Bangladeshi Prime Minister
Foreign Secretary William Hague has welcomed the strong connections between UK and Bangladesh.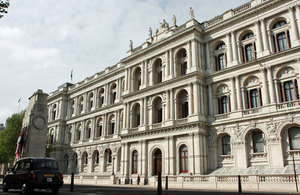 The Foreign Secretary met the Prime Minister and Foreign Minister of Bangladesh, Sheikh Hasina, and Dr Dipu Moni, today. They were joined by Parliamentary Under-Secretary of State Alistair Burt. The meeting covered a broad range of issues, including trade, politics in Bangladesh, human rights, Rohingyas, migration co-operation and climate change.
Commenting on the UK- Bangladesh relationship the Foreign Secretary said:
"The strong roots between our two countries are reflected in our trade relationship where the UK is the largest cumulative investor in Bangladesh. I welcome our co-operation on a range of international issues not least climate change, where Bangladesh plays an important role."
Published 28 July 2012