News story
Foreign Secretary meets Arab League Secretary-General
Foreign Secretary and Arab League Secretary-General agree need for UN resolution on Syria chemical weapons and greater humanitarian support.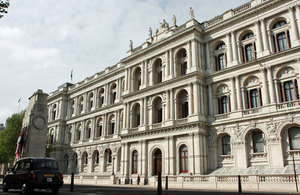 Foreign Secretary William Hague met Arab League Secretary General Nabil al-Araby in London to discuss the crisis in Syria.
Speaking afterwards, the Foreign Secretary said:
It was a pleasure to welcome the Arab League Secretary-General to the Foreign Office for talks ahead of the UN General Assembly next week. Syria was the focus of our discussions. We agreed on the importance of the swift implementation of the US-Russia agreement on chemical weapons in Syria, and the importance of a UN Security Council Resolution to help bring that about. I welcomed the important role that the Arab League is playing in efforts to end to the violence in Syria and secure a political transition.

We discussed the urgent need for the international community to significantly increase their humanitarian assistance for Syrian refugees to match the generosity of Syria's neighbours in hosting over two million Syrian refugees. The UK has committed £400m to the crisis, the largest single response the UK has ever made to any disaster. There is also a desperate need for aid agencies to be granted humanitarian access to those most in need in Syria.

We also discussed the Middle East Peace Process. The Secretary-General and I expressed our full support for the negotiations and for Secretary Kerry's efforts. Both parties must continue to demonstrate the courageous leadership needed to bring about a lasting settlement, recognising the immense benefits that a negotiated two-state solution would bring to Israelis and Palestinians, and to the region as a whole.
Further information
Follow the Foreign Secretary on twitter @WilliamJHague
Follow the Foreign Office on twitter @foreignoffice
Follow the Foreign Office on facebook and Google+
Published 18 September 2013