Foreign Secretary marks World Press Freedom Day
"We must ensure that both online and offline innovation and free flow of ideas, information and expression are protected" said Foreign Secretary William Hague.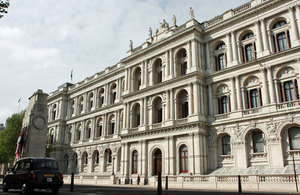 Speaking ahead of World Press Freedom Day on 3 May the Foreign Secretary said:
"World Press Freedom Day gives us an opportunity to honour the work of all those who strive to defend one of our fundamental human rights, the freedom of expression.
It is appalling that 19 journalists have been killed so far this year doing their invaluable work, while many more have suffered imprisonment. Today we remember them all, including Sunday Times Journalist Marie Colvin and French photographer Remi Ochlik, who died bringing us the truth about what is happening to the people of Homs.
As more media appears online, more online journalists, including bloggers, are also being harassed, attacked and killed for their work. We remember them also, and call for the release of those who have been arbitrarily detained.
Events in the Middle East and North Africa over the past year have shown the power of the internet. This year's World Press Freedom Day theme "New Voices; Media Freedom helping to Transform Societies" recognises that power. We must ensure that both online and offline innovation and the free flow of ideas, information and expression are protected. These are cornerstones of a stable and prosperous society."
Published 3 May 2012