News story
Foreign Secretary marks second anniversary of Egyptian revolution
The Foreign Secretary notes the momentous change underway in Egypt and signals the UK's commitment to help strengthen democracy.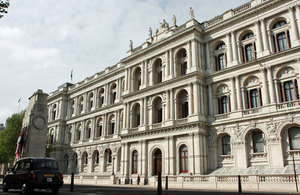 Speaking the day before the second anniversary of the Egyptian revolution, the Foreign Secretary said:
"25 January 2013 marks two years since the Egyptian people took to the streets demanding the overthrow of Hosni Mubarak's regime and calling for freedom and justice. Since that day, Egypt has seen momentous change in its political landscape, and made progress towards a democratic political system providing full transparency and accountability.
"In the last year, we have witnessed a peaceful handover to civilian rule and a democratically-elected President. We welcome the fact that the Egyptian people are now able to express their views more freely than ever before.
"Many challenges remain before the Egyptian people can fully attain the goals of their revolution. An inclusive political process - including free and fair parliamentary elections - and a review process for the Constitution will be the next important steps in consolidating the country's political transition. These will help protect the rights and freedoms of all Egyptians. In addition, many economic challenges are still to be overcome. The UK is committed to helping strengthen democracy and fostering economic recovery in Egypt, and will remain a close and supportive friend of the Egyptian people."
Published 24 January 2013