Foreign Secretary marks International Women's Day
Foreign Secretary William Hague has made a statement on the centenary of International Women's Day, a global day celebrating the economic, political and social achievements of women.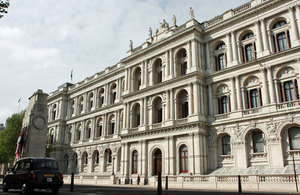 The Foreign Secretary said:
"Today we celebrate one hundred years of International Women's Day.
Much has been achieved in those first one hundred years. But in many parts of the world, women are still campaigning for the rights and opportunities that they were denied in 1911 and are still denied now - the right to work, to vote, to hold public office, to live their lives free of discrimination and to have full access to the education and opportunity which is their birthright. And in some cases their rights have been eroded.
This year the struggle for democratic rights in the Middle East and North Africa is at the forefront of world attention. Many women have been involved in courageous peaceful protest across the region.
The British Government will support all those working to achieve more open societies in the Middle East. We believe this should include a particular emphasis on the economic, political and social empowerment of women."
Published 8 March 2011