Foreign Secretary marks International Day of Democracy
Foreign Secretary William Hague has given a statement to mark International Day of Democracy on September 15 2011.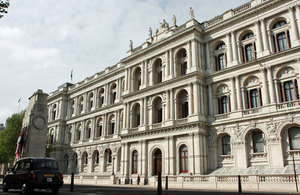 The Foreign Secretary said:
"The historic events of the Arab Spring have shown that people's desire for open societies, political freedoms and transparent and accountable government is universal and cannot be suppressed.
"These values are part of the UK's national DNA and deeply woven into our foreign policy. But it is the people of the Middle East and North Africa who have called for more freedom and more power over their lives. Their demands have spread widely and by themselves, not because western nations advocate these things, but because they are the natural aspirations of all people everywhere.
"Democracy rests on foundations that have to be built over time. It cannot be imposed by design. But the UK can and does play an important role in asserting what we believe in and supporting reformers to build more open, just and prosperous societies.
"As the UN recognises the International Day of Democracy we should celebrate the extraordinary sacrifice people have made across the world to advance democratic values. The Arab Spring has shown what it possible. Great challenges remain but those struggling for freedom can be assured that the UK will stand with you."
Published 14 September 2011