World news story
Foreign Secretary marks Chevening Scholarship's 30th anniversary
William Hague this evening marked the 30th anniversary of the Chevening Scholarship at an Iftar hosted in Islamabad.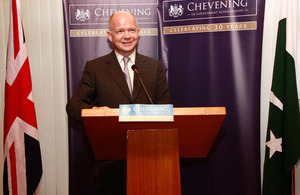 The Foreign Secretary presented certificates at the British High Commissioner's Residence to 19 Pakistani nationals who have been awarded the 2013-2014 Chevening Scholarships to study in Britain.
Operating since 1983, the Chevening programme has sent over 1,200 Pakistanis to study in the UK. This prestigious award promotes greater understanding of the UK's culture and values by providing scholarships for postgraduate Masters degrees. The scholarship programme also enriches Britain's universities by having some of Pakistan's most talented professionals studying with them.
Congratulating the group of future Chevening Scholars at the reception, The Foreign Secretary said:
I'm delighted to be here tonight and meet such an energetic and passionate group of scholars. The people to people links, exemplified by Chevening scholars, are the foundation for the enduring and ever-deepening relationship between our two countries.
Pakistan remains one of the top priority countries for Chevening awards. British universities are enriched by having some of Pakistan's most talented professionals and future leaders studying with them. I warmly congratulate the 19 talented future leaders who have been awarded the Chevening Scholarship and all 1200 Chevening alumni across the country on celebrating 30 years of Chevening scholarships in Pakistan. I wish you well for your studies in the UK.
Further information:
Anybody wanting to find out more information about the Chevening Scholarship can sign up for e-mail alerts on our website: www.chevening.org/pakistan. The application window for next year's Chevening Scholarships will open in the autumn. Applications should be made through the same website.
For latest updates and photos on the British Foreign Secretary's visit, please visit the following pages: UK in Pakistan website Chevening Scholarship official website Chevening Scholarship Flickr gallery Chevening Scholarship Twitter page Chevening Scholarship Facebook page
Contact: Press Attaché, British High Commission, Islamabad; tel. 051 201 2884
Published 17 July 2013