Foreign Secretary: Israel response, 'beyond what was warranted or proportionate'
The Foreign Secretary gave a stronger response to Israel's attack on the Gaza flotilla in address to the House of Commons Wednesday afternoon.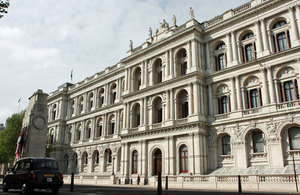 The stronger statement followed his earlier comments, which stressed the need for the end of restrictions on Gaza to allow for the entry of humanitarian aid.
In his address to the Commons the Foreign Secretary outlined his support for an independent inquiry into the incident stating that the UK would:
"…stress to the Israeli Government the need for it to act with restraint and in line with its international obligations, given that its actions appear to have gone beyond what was warranted or proportionate. We need to know whether more could have been done to minimise the risks or to reduce the number of deaths and injuries."
In an earlier interview Wednesday with BBC News, the Foreign Secretary said:
"There is clearly a strong united international demand for this to be done, for UN Security Council Resolution 1860 to be implemented, allowing access for aid and indeed access for commercial goods in to Gaza.
I think that the strength of that demand is greater than ever before. We will all have to work together to find the mechanisms that allow that to happen, to ensure that there is such access to Gaza while not access for the smuggling in of weapons in to Gaza.
"So, should Israel expect us all to come up with ideas about that, to try to find mechanisms for that, yes. But the important thing, above all, is that they lift the restrictions that are counterproductive from Israel's point of view, that are not contributing to Israel's security, but quite probably damaging her long term security. So I think today they face a stronger international demand for that than they have ever faced."
The Foreign Secretary confirmed yesterday that British consular officials in Israel are in touch with all British nationals who are currently in detention.
The Foreign Office understands that Israel plans to deport all activists today and already has consular staff at airports in Israel and Turkey to assist British Nationals when they arrive. The Foreign Office is in constant contact with the Israeli authorities on the situation of all British nationals currently detained."
Published 2 June 2010