Foreign Secretary: Iran must 'guarantee basic human rights and freedoms'
The Foreign Secretary William Hague has spoken out on Iran's human rights record one year on from the anniversary of Iran's disputed presidential elections.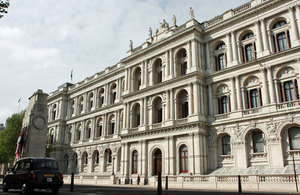 Since the elections, protestors, journalists, students, bloggers and human rights activists face harassment, intimidation and arbitrary arrest. Freedom of expression and assembly has effectively been withdrawn, and press and media restrictions are widespread.
In a statement released today William Hague said:
"Like so many in the international community, I was appalled as I watched footage of the Iranian security forces deploying excessive force against ordinary Iranians exercising their political and civil rights during the events surrounding the elections of 12 June 2009.
I continue to be gravely disturbed by the deterioration in the human rights situation in Iran. The Government of Iran has further restricted freedom of expression and assembly, and protestors, journalists, students and human rights activists routinely face harassment and intimidation.
Those accused of involvement in the post-election protests have been denied due process in their trials. I call on the Government of Iran to guarantee to its citizens the basic human rights and freedoms that they are entitled to, and that it is committed to as a member of the international community."
Published 11 June 2010