Foreign Secretary: "Human Trafficking is a horrific and inhuman practice that destroys lives."
In a speech to Parliamentarians, Foreign Secretary William Hague condemned Human Trafficking and called for greater international cooperation to tackle the problem.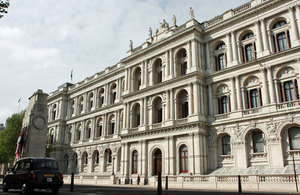 Speaking ahead of International Anti-Slavery Day, which is on Thursday 18th October, the Foreign Secretary spoke about the scale of the problem:
"Estimates on the scale of human trafficking vary enormously from between 800,000 to 2.6 million people being trafficked annually worldwide. Even at the lower estimate that means more people are trafficked annually in the present day than were ever trafficked in the entire 350 years of the transatlantic slave trade."
"Trafficking nets around $36 billion a year, the second most lucrative organised criminal activity worldwide, and that money feeds into other transnational criminal issues such as the drugs trade, trade in small arms and providing funding for terrorism."
He also highlighted the work the UK is doing to tackle the problem:
"We are improving our identification of potential victims and offering greater support to those who have becomes victims of this abhorrent crime. We have a joint venture with The Salvation Army to provide physical, emotional and practical support to the victims of trafficking based on their individual needs. We are also enhancing our ability to act early and to help other countries to deal with the issue at source before it reaches the United Kingdom, training our staff to identify the signs of human trafficking, and developing specialist teams to directly combat organised immigration crime. We currently have 750 investigators in 46 teams tackling the problem.
"As with many issues, such as terrorism, climate change or the drugs trade; human trafficking is a transnational threat; one that has no respect for borders and boundaries; one that we cannot inure ourselves against through unilateral action alone.
"We must raise the cost for anyone who seeks to profit in modern day slavery. We must see more traffickers brought to justice; their crimes punished and their victims offered support and protection."
Published 16 October 2012