News story
Foreign Secretary hosts UK-South Africa Bilateral Forum in London
Trade and investment, climate change & renewable energy and foreign policy were the themes of the 9th UK-South Africa Bilateral Forum in London today.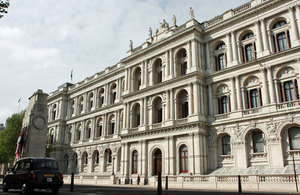 This year's forum was hosted by Foreign Secretary William Hague and co-chaired by South African Minister for International Relations and Co-operation Maite Nkoana-Mashabane.
The UK and South Africa re-affirmed the commitment made by President Zuma during his 2010 State Visit to double bilateral trade by 2015. Lord Green, Minister of State for Trade and Investment met Susan Shabangu, Minister for Minerals and Mining and Deputy Trade Minister Elizabeth Thabethe, to discuss opportunities of meeting this target.
With the 17th Conference of the Parties of the United Nations Framework Convention on Climate Change (UNFCCC) taking place this year in Durban, climate change and renewable energy were central to the discussions. The Foreign Secretary and Secretary of State for Climate Change and Energy Chris Huhne engaged in detailed talks between both the Foreign Minister Nkoana-Mashabane and Water and Environment Minister Edna Molewa. The UK and South Africa are both committed to an ambitious global climate change agreement at Durban. The UK and South Africa have agreed to work together to achieve this.
The Foreign Secretary and the South African Foreign Minister also discussed a number of key foreign policy areas. They discussed the ongoing situation in Libya, Egypt, Syria, Sudan and Zimbabwe.
The biennial UK-South Africa Bilateral Forum is an occasion to discuss the UK-South Africa partnership, taking stock of the current relationship and ensuring joined up thinking and co-operation on a number of areas. The partnership is very broad, ranging from international and African economic reform and culture to counter proliferation, migration, health, development, agriculture and sport. Both the Foreign Secretary and the South African Foreign Minister commented that the Bilateral Forum had elevated the historical relationship to a new level.
Published 9 June 2011