News story
Foreign Secretary hosts GCC ministers
Foreign Secretary William Hague and Ministers from the countries of the Gulf Cooperation Council (GCC) today met in London for a meeting of the UK-GCC strategic dialogue.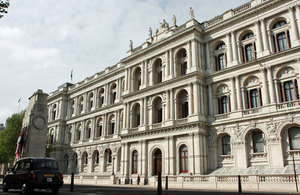 Speaking after the event, Foreign Secretary William Hague said:
"It was a pleasure to welcome Foreign Ministers from across the Gulf to the second meeting of the UK-GCC strategic dialogue. The Gulf is a strategically important region, with increasing political, cultural and economic influence. Since the launch of the Gulf Initiative in 2010, we have worked hard to renew our historical ties and build closer relationships with our Gulf partners. The UK-GCC strategic dialogue is an excellent way of making sure we keep in close contact on key bilateral and regional issues.
"Today we discussed ways to broaden UK-GCC cooperation in a wide range of fields. We agreed that a Joint Action Plan should be developed on issues that concern us all, including the maintenance of peace and security in the region, economic prosperity, and strengthening cooperation in trade, investment and consular activities. We also discussed wider issues of concern which threaten the stability of the region, specifically Syria, and how we can work together to increase the pressure on the Assad Government to end the violence and allow a political transition. I also updated the group on progress in talks between Iran and the E3+3 in Moscow. I made clear that we remain committed to finding a peaceful, diplomatic solution to the nuclear issue, but that the pressure will only increase on Iran until it shows it is willing to take urgent, concrete steps to build confidence that its nuclear programme is purely peaceful."
Published 21 June 2012