Foreign Secretary holds talks with Bahraini Foreign Minister
The Foreign Secretary William Hague today met his Bahraini counterpart, HE Sheikh Khalid bin Ahmed Al Khalifa, at the Foreign Office. The Ministers discussed current events in the Middle East, bilateral issues and the internal situation in Bahrain.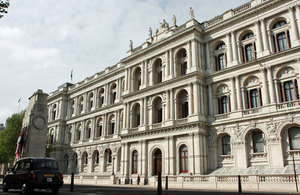 They established a new ministerial-level dialogue, to meet annually, which will provide a forum to discuss regional, bilateral and reform issues.
Speaking after the meeting, the Foreign Secretary said:
"I held good and productive talks with the Bahraini Foreign Minister Sheikh Al Khalifa today, to discuss developments in Bahrain and ways the UK can provide further support to the reform process in Bahrain.
"We have a strong and deep-rooted relationship which allows us to have honest and frank conversations about all issues. I am pleased that today we have agreed to strengthen this through the establishment of a new ministerial-level dialogue that will provide a forum to discuss key regional issues such as Syria, Iran and the impact of the Arab Spring. It will also mean we can raise areas of concern and discuss ways the UK can support Bahrain as it seeks to improve the situation in the country, including by addressing justice and security sector reform. It is critical that the Bahraini Government continues to address concerns about human rights, through further implementation of the Bahrain Independent Commission of Inquiry and Universal Periodic Review recommendations, to help provide the right environment for national dialogue to take place.
"The level of violence in Bahrain is concerning. I welcome the news that some opposition parties, including Al-Wefaq, have signed a declaration of non-violence. I urge others to follow their lead. Violence and disorder are deeply damaging to reconciliation and they set back the prospect of achieving a more stable, open and prosperous country for all Bahrainis. Central to a more open society is the right to peaceful protest, one which I know the Bahraini Government fully understands. I reiterated to the Bahraini Foreign Minister my deep concern at the temporary ban on all protests in Bahrain and urged the Bahraini Government to lift this as soon as possible."
Published 20 November 2012