Foreign Secretary highlights UAE's key role in the Arab world
Foreign Secretary William Hague and UK Minister for International Development Alan Duncan completed a visit to the United Arab Emirates (UAE) on Thursday, as part of a tour by the Foreign Secretary of five countries in the region.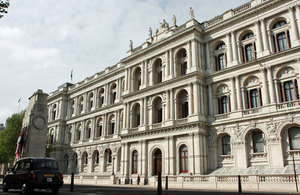 This was the Foreign Secretary's second visit to the UAE since taking office. It reflects the significant time and effort that the Coalition Government has invested in intensifying the UK's historic partnerships in the Middle East and Gulf as part of a distinctive and long term British foreign policy towards the region.
During his visit, the Foreign Secretary and Mr Duncan discussed with UAE Foreign Minister, His Highness Sheikh Abdullah bin Zayed al Nahyan and Minister of State His Excellency Dr Anwar Gargash, the strong bilateral relations between the UK and UAE. The talks built on last year's State Visit by Her Majesty Queen Elizabeth II and the signing of the '2010 Abu Dhabi Declaration' which reaffirmed the historical friendship between the two countries and committed to even closer cooperation on trade and investment, defence and foreign policy, education and culture.
The Ministers discussed regional issues, including recent events in Tunisia and Egypt. On Egypt, the Foreign Secretary stressed the need for a clear transition to a broader-based government.
The Ministers agreed on the need for renewed progress on the Middle East Peace Process. On Yemen they committed to focus on long term stability and development and on Iran they emphasised the need for Iran to engage with the UN, the IAEA and the international community.
On his trip, the Foreign Secretary has visited Tunisia, Jordan, Yemen, UAE and Bahrain.
Published 10 February 2011