Foreign Secretary highlights progress made in Afghanistan
Foreign Secretary William Hague has published a progress report in Parliament of the key developments in Afghanistan during October.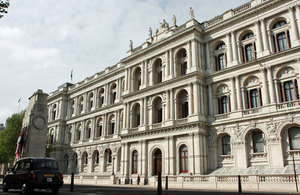 In a written ministerial statement the Foreign Secretary said:
The Bonn Conference on 5 December provides President Karzai with an opportunity to set out his vision for an inclusive settlement. It is also an opportunity for the international community to reiterate its long-term commitment to Afghanistan.
The summer fighting season is ending and it has been a hard year for the insurgency. The numbers of both attempted and executed attacks were lower than during the corresponding period last year, continuing the trend observed over the summer. Despite considerable efforts, insurgents failed to re-establish themselves in areas in the south from which they had previously been displaced. High profile attacks in Kandahar early in October and in Kabul at the end of the month affected Afghan and international perceptions of security. However, Afghan National Security Forces (ANSF) disrupted many attempts and responded effectively and professionally to those that got through. Overall, the performance and operational capability of the ANSF continued to develop: they are on track to achieve their October 2012 growth objective of 352,000 and work continued to ensure that the quality of the forces steadily improves.
The United Nations Office on Drugs and Crime's (UNODC) 2011 Afghan Opium Survey reported a year on year increase in cultivation of 7% nationally (from 123,000 hectares to 131,000 hectares). However, the increase should be interpreted in the context of a difficult economic backdrop of opium prices (which have doubled in the last year to the highest level since 2004) and that the figures are 32% lower than in 2007 (which saw 193,000 hectares cultivated).
With UK support, the Government of Afghanistan continued to make important progress on revenue collection and budgeting. The Government confirmed their best ever first quarter performance for revenue collection to date, bringing it in line with neighbouring countries including Bangladesh and Pakistan. Meanwhile, Provincial Governments have been working with the Ministry of Finance to ensure that for the first time, local priorities are reflected in plans for next year's national and provincial budgets. This will improve the Government's ability to deliver vital basic services to the Afghan people.
During his recent visit to Afghanistan, the Secretary of State for International Development launched an important new fund for Afghan civil society organisations. This will help them to engage better with the Afghan Government and hold it to account, for example on human rights and corruption.
Published 21 November 2011