Foreign Secretary hails EU adoption of sanctions against human rights violators in Iran
EU Foreign Ministers have today adopted tough new sanctions against individuals responsible for human rights violations in Iran.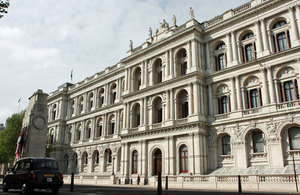 The sanctions impose travel bans and asset freezes on thirty-two individuals in the Iranian regime. Speaking at the Foreign Affairs Council in Luxembourg today, Foreign Secretary William Hague said:
"Today the European Union has agreed sanctions on Iran because of the appalling human rights record in the country. Iran seems to have believed that with all the change happening in the Middle East, they can get away with an even worse human rights situation: the imprisonment of opposition leaders, the detention of more journalists than any other country in the world, and the excessive use of the death penalty, often on vague charges. And the European Union has today agreed restrictive measures on thirty two individuals in Iran we believe are responsible and instrumental in those policies."
Today's decision in the European Union represents a further and concrete expression of the EU's serious concern about the human rights situation in Iran. This is shared by the international community as demonstrated by agreement among countries of every region of the world on the 24 March to establish a UN Special Rapporteur on Iran human rights.
Thirty-two individuals are listed including member of the security forces, prison staff, judiciary and prosecutors. All have perpetrated violations as serious as torture and applying the death penalty on vague charges and without fair trial. These individuals will now be subject to an EU wide asset freeze and are also denied entry into the EU. HM Treasury will now put into place criminal penalties for breaches of these sanctions. If sanctions are breached within the UK, persons found guilty could face up to two years in prison and an unlimited fine.
These measures are designed to support the Iranian people in realising their rights by sending a message to all those who perpetrate violations that the EU will not tolerate impunity for these abuses. The list will be subject to review and more individuals may be added. We want those on the list to change their approach, but also for others to take heed of these measures and not involve themselves in human rights abuses.
Published 12 April 2011