Foreign Secretary hails deal between Sudan and South Sudan
Foreign Secretary William Hague has welcomed the agreements signed today between the Presidents of Sudan and South Sudan.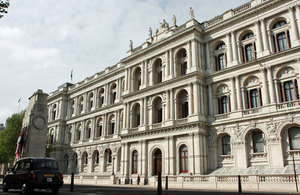 Speaking from New York, where he is attending the UN General Assembly, the Foreign Secretary said:
"I welcome the news of the signing today of agreements between the Sudanese and South Sudanese Presidents. They represent a significant stride towards the goal of resolving all outstanding disputes between the two countries, and building a constructive and neighbourly relationship. The resumption of oil exports, enshrinement of the rights of citizens, and the immediate implementation of border security measures will be of enormous benefit to both countries.
"I commend the unwavering efforts of the African Union Panel, led by Presidents Mbeki, Buyoya and Abubakar, as well as those of the late Prime Minister Meles, which were instrumental in bringing about today's progress.
"Much work remains in the implementation of the agreements, and it is equally important to keep up efforts to seek an agreed solution on Abyei and other outstanding issues. The UK stands ready to support the implementation of these agreements. Putting them into practice will take continued commitment on both sides, and I urge both Presidents to maintain the leadership they have shown today.
On this positive day, we must not forget the people of Southern Kordofan and Blue Nile, who are still suffering greatly as a result of the ongoing conflict in those two areas. It remains critical that talks commence to agree a ceasefire, and that the Tripartite Agreements on humanitarian access, signed in early August, are put into immediate effect."
The UK has supported the AU High Level Implementation Panel in its facilitation of talks between Sudan and South Sudan since the adoption of UN Security Council Resolution 2046 in May 2012. The Foreign and Commonwealth Office, Department for International Development and Ministry of Defence have jointly provided funding, technical experts and political support to ensure the AU Panel, led by former President Mbeki, had all it needed to carry out its crucial role.
Minister for Africa, Mark Simmonds MP, will today participate in a meeting of the Sudan - South Sudan Consultative Forum, taking place in New York. He will urge the international community to remain committed to supporting the implementation of today's agreements, and Sudan and South Sudan to reaching agreements on those issues that remain unresolved.
Published 27 September 2012