News story
Foreign Secretary gives 'cautious welcome' to Ukraine agreement
Foreign Secretary William Hague has said yesterday's agreement on the next steps in Ukraine should be welcomed, but quick progress is needed.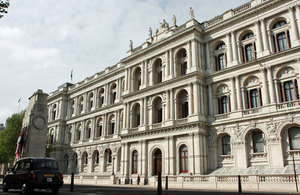 Following the agreement on next steps in Ukraine yesterday (17 April 2014), the Foreign Secretary William Hague said today:
Yesterday's agreement was at the top end of our expectations. We should certainly welcome it, but it should be a cautious welcome. The next steps are to see implementation, and we need to see progress quickly over the next few days.

We will do everything possible to help Russia implement these decisions, including through the OSCE monitoring mission. We've also announced a further £1 million to support this mission.

Russia wants to destabilise Ukraine, and keep it as a weaker country. As such we have not recognised and do not recognise the annexation of Crimea, nor do we consider it to be a part of Russia.

We stand ready in the European Union, and through the USA, to impose additional sanctions should that become necessary. And the common defence of the NATO alliance remains rock solid. We are preparing more far-reaching sanctions in the case of further provocations, and must be clear that the consequences of their actions can be very expensive for Russia.

It is a great difficulty, but it is possible to make progress together. There has to be a strong response, and in terms of sanctions there has been a strong response.

Ukraine should be able to be a bridge between East and West. It should be able to trade with Europe whilst maintaining a good relationship with Russia. And this diplomatic process is working to give Ukraine these rights – just like any other country.
Published 18 April 2014