Foreign Secretary expresses hopes for "true, open democracy in Egypt"
Foreign Secretary William Hague has spoken today about the situation in Egypt and the wider Middle East and the need for stability following the resignation of President Mubarak.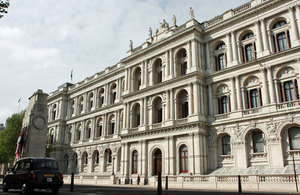 Speaking on Radio 4 the Foreign Secretary spoke of his hopes for "true, open democracy in Egypt" and how the events in Egypt could affect the peace process between Israelis and Palestinians:
"I think what we should be afraid of here is not democracy but uncertainty and instability that can make national leaders more cautious and say, 'We're only going to deal with one thing at a time.' So really what we have to do is get the direct talks back on between Israelis and Palestinians.
I have said, over the last couple of weeks, that the United States should make clear that a settlement between Israelis and Palestinians should be based on 1967 borders - that that should help to encourage Palestinians back into the talks - and then we really need the recognition.
And perhaps one of the good things that might come of events in Egypt and Tunisia is that policymakers in Israel and among Palestinians will be jolted to see that it is vital now to take this forward, because in a few years' time a two-state solution will be much, much more difficult to achieve."
The Foreign Secretary also spoke about his own impressions of recent events following his visit to Tunisia this week:
"I was very cheered … by meeting young people in Tunisia earlier this week who had taken part in the revolution there. And their motivations were not religious, they were not foreign policy motivations; their motivations were to have economic opportunities, to have jobs, to be able to enjoy the things that people in Europe enjoy.
And so if they were in any way representative of the kind of opinion that has driven these revolutions in Tunisia and Egypt it does not for the mass of the population mean that they want to make these foreign policy issues more difficult. They certainly want peace and strong economic development in their region."
Foreign Office Minister Alistair Burt also spoke about the regional impact in an interview with BBC 5 Live this morning, saying:
"The world is changing, but important strategic interests remain the same for all of us. That countries in the region stay close to their neighbours and get closer to their neighbours is very important. That the longstanding peace agreement between Egypt and Israel holds up is again very important in the region. It could be a building block for new relationships all round and we would hope that that would be the case."
Published 12 February 2011