Foreign Secretary expresses concern at violence in Bahrain
Foreign Secretary William Hague called for restraint in dealing with protests when he spoke to the country's Foreign Minister Sheikh Khalid bin Ahmad bin Muhammad al Khalifa earlier today.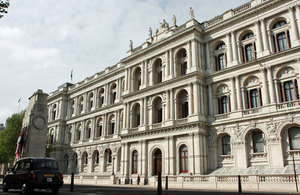 Speaking after the telephone call, the Foreign Secretary said:
"I spoke to the Foreign Minister of Bahrain today to express our concern about the violence in Bahrain, to call for restraint in dealing with protests including during the Formula One race and to urge further progress in implementing political reforms.
The British Government supports the reforms already underway in Bahrain and we want to help promote that reform. In particular, we encourage the Bahraini Government to take further urgent steps to implement in full the recommendations of the Independent Commission of Inquiry. This includes bringing to account those individuals responsible for human rights abuses.
We also call for the release of prisoners sentenced by the military court and urge all sides to restrain from violence and to enter into an inclusive and constructive political dialogue to achieve long term stability for Bahrain."
Published 21 April 2012