Foreign Secretary discusses Libya and Cote d'Ivoire with Chair of African Union Commission
Foreign Secretary William Hague met Dr Jean Ping, Chair of the African Union Commission to discuss the situations in Libya and Cote d'Ivoire.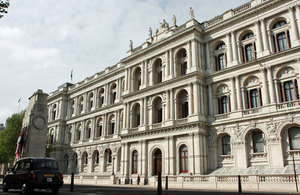 Speaking after the meeting the Foreign Secretary said:
"I was delighted to meet Dr Ping today. We had a wide ranging discussion which highlighted the close working relationship between the UK and the African Union.
"We discussed the situation in Libya and agreed on the pressing need for an end to the violence, the need to protect civilians and for a solution that meets the aspirations of the Libyan people. We also discussed the outcomes of last week's London Conference on Libya and plans to take these forward, including how we can continue to work closely together on these matters.
"I also expressed my deep concern at the situation in Cote d'Ivoire and at the deepening humanitarian crisis. We agreed that all sides need to show restraint and protect civilians. We hope to see a swift resolution of the crisis and for President Ouattara take up the office to which he has been democratically elected."
Dr Ping is in London for a two day visit. He also met Andrew Mitchell, the Secretary of State for International Development and the FCO's Minister for Africa, Henry Bellingham.
Published 4 April 2011