Foreign Secretary discusses EU issues with Luxembourg's Foreign Minister
Foreign Secretary William Hague met Luxembourg Deputy Prime Minister and Foreign Minister Jean Asselborn on 24 January.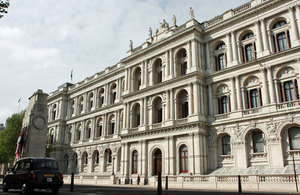 The Ministers' discussions focussed on preparation for next week's Foreign Affairs and General Affairs Councils in Brussels as well as on wider issues of interest to both our countries. The Foreign Secretary explained at first hand the United Kingdom's commitment to ensuring that the EU budget is subject to the same level of austerity as national budgets over the course of the next Financial Perspective. They also covered EU handling of our Foreign Policy Challenges such as Belarus; Tunisia; Middle East Peace Process; Iran; and our policy towards Western Balkans and Turkey.
Speaking after their discussions the Foreign Secretary said:
"It was a great pleasure to welcome Deputy Prime Minister and Foreign Minister Asselborn to London. His visit helps further to strengthen an already close working relationship between our two countries and provided the opportunity to deepen bilateral and multilateral co-operation in the many areas where we have interests in common."
Published 27 January 2011