Foreign Secretary disappointed by Belarus decision to recall EU and Poland Ambassadors
Foreign Secretary William Hague said he is disappointed by Belarus' decision to recall their Ambassadors to Poland and the EU in response to further EU sanctions being imposed on the country yesterday.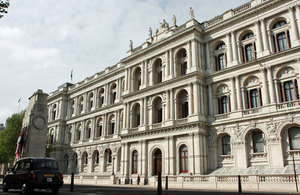 Speaking today he said:
"I am deeply disappointed at the decision of the Belarusian authorities to recall their ambassadors to the EU and Poland and to seek the recall of the EU and Polish ambassadors to Minsk. This is their response to the imposition of further EU sanctions on 28 February.
"The UK, together with its EU partners, has consistently made clear to Belarus that the EU would continue to impose further sanctions as long as political prisoners remained in place and the repression of civil society continued. I regret that there have been no positive developments in this respect and that, instead, the repression has continued unabated and further political prisoners have been detained.
"We remain committed to supporting the people of Belarus and willing to re-engage fully with Belarus once the conditions are right.
"In light of this most recent development, the UK has decided, in solidarity with all other EU Member States, to recall for consultations its Ambassador to Minsk and to summon the Belarusian Ambassador to the UK to the Foreign Office."
Published 29 February 2012