Foreign Secretary describes the UK as "a firm friend of Lebanon" ahead of meeting with Lebanese Prime Minister.
Foreign Secretary William Hague met Lebanese Prime Minister Saad Hariri today at the Houses of Parliament in London.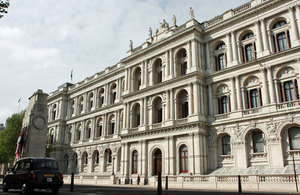 Before their meeting, the Foreign Secretary said:
"It is a great pleasure to welcome the Prime Minister to the Houses of Parliament, which for centuries have been a centre of democratic debate in this country. So it's a pleasure to welcome the Prime Minister of a country which has its own vigorous democratic debate and a democracy we very strongly support.
The UK is a firm friend of Lebanon, of its independence and of the right of its people to govern their own affairs. We strongly support what its leaders have done, what its Prime Minister has done, to advance its peace and prosperity in recent times".
Speaking about the Special Tribunal for Lebanon, which was set up in 2007 to investigate the assassination of former Lebanese Prime Minister Rafiq Hariri, the Foreign Secretary said:
"We also believe that the Special Tribunal for Lebanon should be able to complete its work. That is an important process and we have supported Prime Minister Hariri in resisting attempts to derail that process.
I am looking forward to our discussions and I know we will also be able to discuss other important international issues. I will be visiting the region later this week, so it will be important for us to discuss the peace process between Israelis and Palestinians, and the prospect for peace between Israel and Israel's other neighbours as well."
Prime Minister Hariri noted that it was his first visit to the UK as Prime Minister and thanked the Foreign Secretary for his "support for Lebanon, its sovereignty and its independence". He also noted the importance of a comprehensive peace in the region.
Published 1 November 2010