Foreign Secretary 'delighted' at successful conclusion of Cancún Summit
Foreign Secretary William Hague congratulates Mexican President Calderon and Foreign Minister Espinosa as talks end with agreement.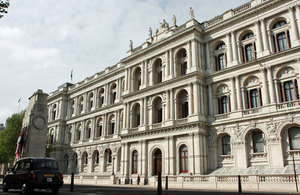 Speaking on 11 December, following the close of the summit, the Foreign Secretary said:
"I am delighted that the UN Climate Change talks in Cancun, Mexico have concluded successfully with agreement reached on reducing deforestation, bringing details of both developed and developing countries' actions to reduce emissions into the UN system and providing climate finance and technology to support developing countries' efforts. This puts the world on the path towards a legally binding global deal to tackle climate change under the UN.
The talks demonstrate an emerging political will to take serious action against climate change. This is an excellent result, not only for our efforts to tackle climate change which are central to our collective prosperity and security, but also more broadly for restoring confidence in multilateralism. In an interdependent world we can find common solutions to common problems.
Cancun has surpassed expectations. The Mexican Presidency has handled these difficult and complex negotiations with aplomb. I warmly congratulate President Calderon and Foreign Minister Espinosa on their success.
It is now our duty to build on what has been achieved in Mexico, redoubling our efforts for a global political consensus on the shape of a legally binding climate deal."
Published 11 December 2010