Press release
Foreign Secretary confirms extended sanctions
Following today's Foreign Affairs Council in Luxembourg, the Foreign Secretary has confirmed further EU sanctions in response to events in Eastern Ukraine.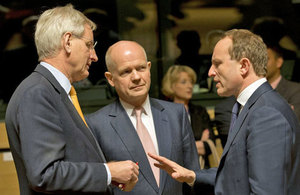 The Foreign Secretary William Hague said:
The UK believes it is very important that the European Union gives a clear and strong and united response to events over the last few days in Ukraine and we call on Russia to repudiate the latest lawless acts in Eastern Ukraine.

In the European Union we are very strongly committed, as we are in the UK, to the sovereignty and the independence and the territorial integrity of Ukraine.

It is very hard to believe after recent events that Russia shares those objectives. I said this morning it is important to have a response and we have agreed among foreign ministers to expand the sanctions – the second tier of sanctions - and to add further names to those sanctions. So we have taken that decision in the Council today.

We have also stressed the urgency of completing the work on a possible third tier of more far reaching sanctions should those become necessary and the European Commission have assured us that that work is almost complete.

We have taken decisions today to support the Ukrainian economy, and the decision we've taken about lifting the customs duties on the vast majority of imports from Ukraine will be important for the future economic recovery and prosperity of that country.

And also of course we support the holding of a contact group meeting, including the European Union, on Thursday. That is an important opportunity for Russia to show it that is prepared to use diplomacy to de-escalate the situation, but it has to be said that there has been no sign of that in Russia's actions so far and that is why it is right that we have agreed additional sanctions today.
Further information
Read the full list of Council Conclusions on Ukraine
Read the latest updates on the government's response to the situation in Ukraine
Follow the Foreign Secretary on twitter @WilliamJHague
Follow the Foreign Office on twitter @foreignoffice
Follow the Foreign Office on facebook and Google+
Published 14 April 2014