Foreign Secretary condemns Syrian shelling of Turkish town
Late last night, the Foreign Secretary, William Hague, spoke to Turkish Foreign Minister Ahmet Davutoglu about the shelling by Syrian regime forces of the Turkish town of Akcakale on the Turkish-Syria border.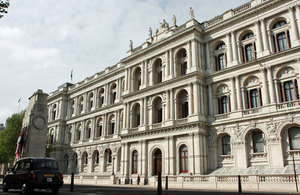 Speaking afterwards, the Foreign Secretary said:
"I condemn the violence from the Syrian regime which has led to the deaths of a number of Turkish citizens, including a mother and her children. This was an outrageous act. We demand that the Syrian regime avoid any repetition of today's incident on the border with Turkey.
"Today's events are a stark reminder of the deteriorating situation in Syria, the dangers it presents to the wider region, and the need for an urgent resolution of the United Nations Security Council.
"I have just spoken to the Turkish Foreign Minister Ahmet Davutoglu. I expressed my deepest sympathies for the families and communities of those died and for those injured.
"Turkey is one of our closest allies and key partners in the region and we will continue to work closely together on the Syria crisis and remain in close touch over the coming days".
Published 4 October 2012