Press release
Foreign Secretary condemns Syrian regime aerial attacks on civilians
Foreign Secretary concerned at escalating violence in Syria and the deepening humanitarian crisis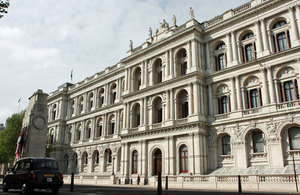 Following reports that barrels packed with TNT have been dropped on Aleppo for over a week leaving more than 300 people dead, many of whom were children, the Foreign Secretary William Hague said:
I am deeply concerned at the escalating level of violence in Syria. I condemn the use of brutal and indiscriminate weapons in densely-populated civilian areas, such as we have seen in Aleppo in recent days.

In light of the worsening humanitarian crisis, I call again on all sides to implement the UN Security Council Presidential Statement of 2 October on humanitarian access. The regime must release the detainees it holds, particularly women and children.

I reaffirm our support for the National Coalition, and UK efforts to support the UN's Geneva II' political process starting in January. This is the only way to end the conflict, and to ensure that Assad has no role in Syria's future.
Further information
Follow the Foreign Secretary on twitter @WilliamJHague
Follow the Foreign Office on twitter @foreignoffice
Follow the Foreign Office on facebook and Google+
Published 23 December 2013