News story
Foreign Secretary condemns North Korea's missile launch
Foreign Secretary Philip Hammond has condemned North Korea's ballistic missile technology test.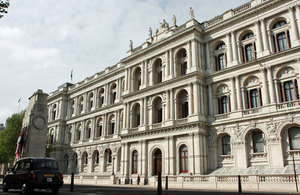 Following news of the launch Foreign Secretary Philip Hammond said:
I strongly condemn North Korea's ballistic missile technology test. This is a clear and deliberate violation of a number of UN Security Council Resolutions. North Korea's actions continue to present a threat to regional and international security.

In conducting this provocation, North Korea has clearly demonstrated that it is intent on prioritising the development of its nuclear and ballistic missile programmes over improving the well-being of its own people.

As North Korea is aware, the UN Security Council unanimously agreed to take significant measures against any further launches or nuclear tests. We will now meet with our partners in New York to agree a collective response.
Further information
Follow the Foreign Office on twitter @foreignoffice
Follow the Foreign Office on facebook and Google+
Published 7 February 2016