News story
Foreign Secretary condemns latest violence in North East Nigeria
After yesterday's extremist attack in NE Nigeria, the Foreign Secretary reiterates UK support but says protection of civilians remains vital.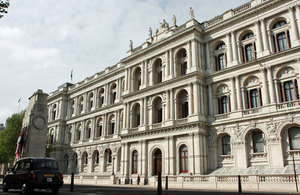 The Foreign Secretary said:
I am deeply saddened by reports of multiple deaths in the town of Bama in north-east Nigeria, following an attack by an extremist group yesterday. My thoughts are with the families and friends of the victims and all those affected. This is the latest in a series of extremist attacks on innocent civilians in Borno State. These attacks have no justification and I condemn them in the strongest terms.
The growing insecurity and escalation of hostilities in north-east Nigeria is of deep concern. Yesterday's attack in Bama follows the terrible loss of life in the town of Baga last month and disturbing allegations of human rights violations.
The Foreign and Commonwealth Office's 2013 Annual Human Rights report acknowledges the Nigerian Government has both a right and a responsibility to defend its people from terrorism. The British Government supports Nigeria in tackling the challenges posed by terrorist and extremist violence. However the protection of civilians is of vital importance. I welcome the commitment by the Nigerian authorities to open an investigation into the events at Baga. It is important that the Nigerian Government investigates all such incidents rigorously, objectively and transparently.
Further Information
Published 8 May 2013