Foreign Secretary condemns "brutal and senseless" attack on US Consulate General in Benghazi
Foreign Secretary William Hague has condemned the attack on the US consulate in Benghazi in which four were killed, including US Ambassador to Libya Chris Stevens.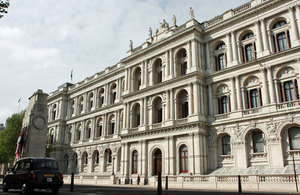 Speaking today, Foreign Secretary William Hague said:
"The UK condemns the brutal and senseless attack on the US Consulate General in Benghazi. Our thoughts and prayers are with the families, the loved ones and the friends of the four Americans who have been killed including, tragically, the US Ambassador to Libya Chris Stevens, who is someone who has worked closely and ably with British diplomats in Libya. We send our condolences to the government and the people of the United States and stand with them in this. Of course we have offered them any assistance that we can provide from our own Embassy and our own diplomatic team in Libya.
"It is the sort of attack that won't achieve anything. These diplomats are serving not only their own country, the United States, but the people of Libya. They were working for the peace and stability of Libya in the future. I welcome the clarity of the Libyan government in condemning this action and of course we look to them to ensure that this is fully investigated, that those responsible are brought to justice, that such attacks are prevented in future and that the security of all diplomatic missions is maintained. It is also a reminder of the continuing need to bring law and order to all parts of Libya so that the people of Libya can have a safer, more peaceful and prosperous future."
The Foreign Office has updated the travel advice for Libya to advise against all travel to Benghazi.
Published 14 September 2012