News story
Foreign Secretary condemns attacks in Mogadishu
Foreign Secretary William Hague has strongly condemned the terrorist attacks in Somalia.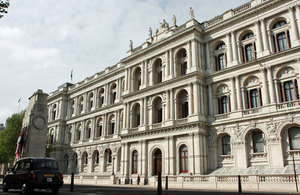 Commenting on reports of two deadly attacks in Mogadishu on Sunday 14 April, Foreign Secretary William Hague said:
"I strongly condemn today's terrorist attacks in Mogadishu. We extend our deepest sympathy to the victims and their families. Somalia is emerging from decades of conflict. The actions of terrorists only prolong the suffering of the Somali people.
"The UK and the international community, as we saw at last week's G8 foreign Ministers' meeting, remain committed to helping the people of Somalia achieve peace, security and development. Those responsible for terrorist acts should face justice."
Further information
Published 14 April 2013