Foreign Secretary comments on violence in Egypt
Foreign Secretary William Hague said that real and visible change, needs to take place, and needs to begin now.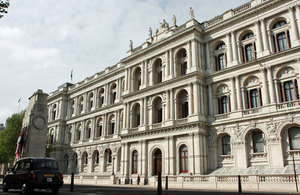 Speaking today on BBC Radio 4 the Foreign Secretary said:
"We want a stable and democratic country in Egypt, that's what's in the national interest of the United Kingdom. An orderly transition to a broadly based Government of free and fair elections, to real and visible change, needs to take place, and it needs to begin now so that they can work out those differences for themselves in a sovereign nation, having their arguments with each other but in a peaceful way. We continue to place the pressure on them to get on with that as rapidly as possible."
On reports that the regime sponsored violence against protestors the Foreign Secretary said:
"I don't have any evidence either way, but if it turns out that the regime in Egypt has in any way sponsored violence against peaceful protest that would be totally unacceptable. In the last hour I've spoken to the President's son, Gamal Mubarak, on the telephone and said that if it turned out that there was state sponsored violence here that would be catastrophic for Egypt and for those who are in Government now."
"We'll continue to work with our partners in the EU and with the United States to try to push things in the right direction."
Earlier today Prime Minister David Cameron condemned the violence in Cairo.
Published 2 February 2011