Foreign Secretary comments on Russian presidential elections
Foreign Secretary William Hague has noted the election observers assessment of the presidential elections in Russia on 4 March.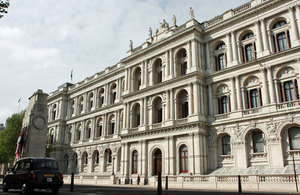 Following the election results announced yesterday, Foreign Secretary William Hague said:
"I note the preliminary assessment of the OSCE / ODIHR Election Observation Mission of the Russian presidential elections.
"Overall, while the Mission gives a positive assessment of voting on election day, it identifies problems with counting at some polling stations, unequal campaign conditions, and limitations on voter choice. These issues should not be overlooked. A Russia with greater political freedoms, including the registration of political parties, freedom of assembly, and freedom of the media is in the interests of Russians and of the wider world. All allegations of electoral violations should now be thoroughly investigated.
"It is in Britain's interests to develop a stronger and deeper partnership with Russia, by addressing the obstacles in the relationship so that we can extend our political and trade engagement. We look forward to working with the Russian government to do this."
Published 6 March 2012