Foreign Secretary commends efforts of Joint Special Envoy on Syria
Foreign Secretary William Hague spoke after the announcement that the Joint UN-Arab League Special Envoy for Syria Kofi Annan is not renewing his mandate.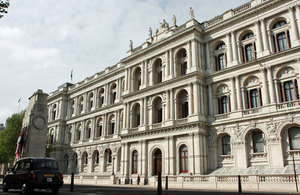 The Foreign Secretary said:
"I pay tribute to the extraordinary efforts that Joint Special Envoy Kofi Annan has made on behalf of the Syrian people. No one has shown greater commitment and courage in pursuit of a peaceful political solution to the appalling crisis that has engulfed the country. Under his stewardship all parties have agreed a six point plan and the international community, including the permanent members of the Security Council, has backed his roadmap for transition agreed by the Action Group on Syria at Geneva in June.
"However the Syrian regime has failed to meet the commitments it made when agreeing Annan's six point plan and continues its brutal repression of the Syrian people. As a result more Syrians are dying, violence is increasing every day and the humanitarian situation worsening. It is clear that the plan is not working.
"We understand Annan's frustration that, due to vetoes in the Security Council, the international community was unable to give him the support that he needed and requested. However his plan and the Geneva communique still offer the best chance of bringing a peaceful solution in Syria. We continue to support fully the work of the UN Secretary General and Secretary-General of the Arab League in their efforts to bring peace to Syria. It is crucial that the international community now unites at the UN and shows that it is determined to hold this criminal regime to account."
Published 2 August 2012