Foreign Secretary chairs meeting of Human Rights Advisory Group
Foreign Secretary William Hague chaired the second meeting of his Human Rights Advisory Group today. The meeting focused on the Arab Spring, freedom of religion, and the interaction between trade and human rights.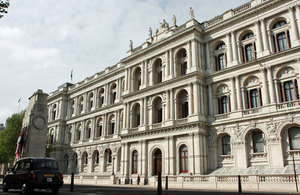 Speaking after the meeting William Hague said:
"Since the first meeting of the Advisory Group on Human Rights last December, we have seen an eruption of democracy movements across the Middle East and North Africa, the most important event of the 21st century so far, which brings huge potential for the advance of democracy and human rights in the region. Today's meeting provided an important opportunity to discuss these events, to share perspectives and learn lessons. I greatly valued hearing from experts who have been at the forefront of reporting and documenting human rights abuses in the region.
"We also discussed global human rights issues including freedom of religion and the interaction between trade and human rights. The Group's expertise has already proved valuable in informing our human rights policies, including on what we can do in response to the recent attacks on religious minorities. I want to thank all the members of the group for their active contribution and look forward to discussing these and other issues further over the coming months."
Published 8 June 2011