Foreign Secretary celebrates 50 years of Amnesty International
28 May 2011 is the 50th Anniversary of the founding of human rights organisation Amnesty International.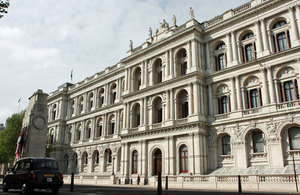 To mark the occasion, the Foreign Secretary, William Hague said:
"For 50 years, Amnesty International has been amplifying the voices of individuals who might otherwise struggle to be heard. I congratulate Amnesty and its members on their achievements over years of tireless campaigning. Their work to protect and promote human rights, often at risk to themselves, has resulted in many lives saved and prisoners of conscience released.
"As we have seen with recent events in the Middle East and North Africa, the role of Amnesty International and other civil society organisations remains important in today's world. I wish Amnesty continued success in the future."
Published 28 May 2011