Foreign Secretary attends Istanbul Conference on Somalia
Ahead of the conference, Foreign Secretary William Hague talks about significant progress made in Somalia in the three months since the London Conference on Somalia.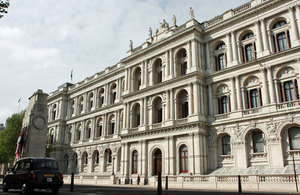 In a post on his Facebook page, the Foreign Secretary said:
"On 1 June I will be in Istanbul for a major international conference on Somalia, the second major conference on Somalia this year. We welcome Turkey's leadership on Somalia, along with that of the United Nations and African Union who co-hosted today's event.
The aim of the London Conference on Somalia in February was to galvanise and coordinate international effort on Somalia. Significant progress has been made in the last three months. Al Shabaab continues to go into retreat and in Mogadishu people are now able to live more normal lives - setting up businesses, going to school. Although millions of people still require emergency assistance, the famine has ended. For the first time in decades, diplomatic missions have regular access to Mogadishu. Three British Ministers have already visited this year.
All eyes are now on Somalia's leaders to ensure that they deliver a peaceful handover of power and succession when the transitional period formally ends in August. This is essential to ensure that the progress made over the last few months is not reversed."
Read the full post on the Foreign Secretary's facebook page
Published 31 May 2012