Foreign Secretary attends G8 ministerial meetings
Foreign Secretary William Hague was in Washington for meetings with other G8 foreign ministers ahead of next month's G8 summit at Camp David.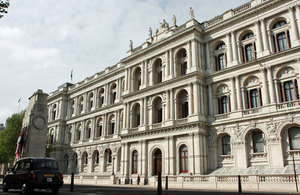 The meetings focussed on the portfolio of security and global development issues that will make up the G8 and NATO summits in May. Among the topics discussed were support for a meaningful ceasefire and cessation of violence in Syria, stability and security in Afghanistan, and peaceful means of preventing Iran from obtaining nuclear weapons.
Further detail of the discussions during the meetings can be found in the Chair's Statement.
Following the meetings, Secretary Hague released a statement on the latest developments in Syria. "Today's lessening of violence in Syria is a first fragile step towards peace that needs to be strengthened and sustained," said Hague. "I urge the Assad regime to implement fully its undertakings to the Joint Arab League and UN Special Envoy on Syria, including withdrawing troops and weaponry from residential areas. The international community will support this process, we continue to support the work of Kofi Annan and will keep up the pressure on the Syrian government to implement in full the six point plan including the move towards a political transition which will bring the Syrian people the greater freedoms they deserve."
Search the news archive
Published 12 April 2012