Foreign Secretary attends Foreign Affairs Council
Foreign Secretary William Hague said the EU policies towards the Middle East and North Africa should be "bold and ambitious" ahead of the Foreign Affairs Council meeting.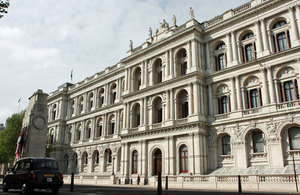 Speaking on arrival in Luxembourg the Foreign Secretary said:
"Well this meeting is at a very important time of course in the development of European policy towards the Middle East and North Africa. The United Kingdom believes that it's very important for our policies to be bold and ambitious, for Europe to be a magnet for positive change, for the countries on our, in our Southern neighbourhood and we want to discuss more of the detail of that today.
The events in the Middle East are the most important events so far in the Twenty First Century in the, in the world. And it is very important that the response of Europe is commensurate with the scale and historic nature of those events.
Today I'm also looking forward to briefing my colleagues on the arrangements for the Contact Group meeting on Libya in Doha tomorrow. I hope that Contact Group meeting will show a further strengthening of the international coalition on Libya. We of course will also look at further humanitarian aid that can be given to the people of Libya and I believe we will also be very clear that any viable future for Libya involves the departure of Colonel Gaddafi.
Also today it is important to note that we have agreed sanctions, restrictive measures on Iran because of the appalling human rights record of Iran. Iran seems to have believed that with all the change happening in the Middle East that they can get away with an even worse human rights situation in their country: the imprisonment of opposition leaders, the detention of more journalists than any other country in the world, the excessive use of the death penalty, often on vague charges. And the European Union is agreeing today restrictive measures on thirty two individuals in Iran we believe are responsible and instrumental in those policies.
We're also agreeing on the renewal of a strong sanctions regime on Burma, another country which has an appalling human rights record and I'm pleased that the European Union has fully recognised that in our deliberations as well."
Published 12 April 2011