Foreign Secretary attends EU Foreign Ministers meeting on Libya
Foreign Secretary William Hague attends the EU Foreign Ministers meeting in Brussels to discuss action to step up pressure on the Libyan regime.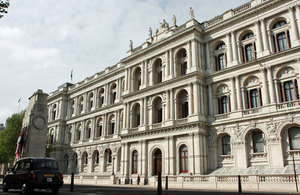 Speaking from Brussels the Foreign Secretary said:
"We continue to be appalled by the levels of violence in Libya and we call on Colonel Gaddafi to leave and for his regime to end the violence against their own people."
"We'll be working for the European Council meeting tomorrow to step up pressure on the regime, to work on further sanctions, to further isolate the regime in Libya.
"Of course there is also a lot of contingency planning going on for many different eventualities including the eventuality of
Prior to leaving Brussels, the Foreign Secretary spoke by telephone to Mahmoud Jabril, Special Envoy of the Transitional National Council.
The Foreign Secretary told Mr Jabril that European foreign ministers had today discussed how the EU should respond to the continuing appalling and unacceptable actions of the Qadhafi regime, in preparation for Friday's European Council. The EU had today extended its restrictive measures against the Libyan regime to include key financial entities.
Mr Jabril stressed the need for humanitarian aid, particularly in the form of medical supplies and reiterated his request for the West to act to hinder Qadhafi's ability to inflict further violence on the Libyan people, including through a no fly zone. The Foreign Secretary made clear that planning was underway on a full range of responses, including the possible establishment of a no-fly zone. It would need international support, a clear trigger and a legal basis. He also said that another diplomatic mission would be sent to Benghazi shortly.
Published 10 March 2011