News story
Foreign Secretary attends EU Foreign Affairs Council
Foreign Secretary, Boris Johnson, attends his first EU Foreign Affairs Council in Brussels.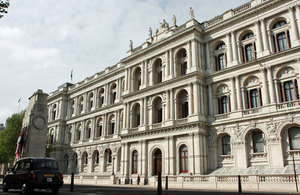 Speaking to media ahead of the meeting the Foreign Secretary said:
It is very good to be here for my first overseas trip. Clearly the message I'll be taking to our friends in the Council is that we have to give effect to the will of the people and leave the European Union but that in no sense means that we are leaving Europe. We are not going to be in any way abandoning our leading role in European cooperation and participation of all kinds.

I had a very good conversation to that effect last night with High Representative Mogherini and she agreed very much that was a role that Britain should continue to play. Clearly when you look at the discussion on the table this morning over Nice, the horrific events in Nice, and Turkey where we had to work very closely together, you can see the importance of that.

On Nice, clearly we'll be ensuring that we coordinate our response to terror. And on Turkey, I think it's very important in view of the failed coup that we see restraint and moderation on all sides and that's what I'll be calling for.

And in the mean time I'm very much looking forward to meeting my colleagues from other European countries.
Watch a film of the Foreign Secretary.
Further information
Published 18 July 2016