Foreign Secretary appoints climate change Special Representative
The Foreign Secretary, William Hague, has announced the appointment of John Ashton as his Special Representative for Climate Change for the year ahead.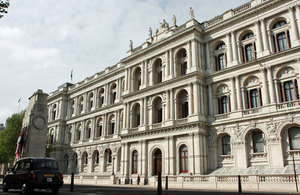 Mr Ashton will support Ministers in the Foreign Office, as well as in the Department of Energy and Climate Change and the Government more widely, in building a stronger foundation for an effective global response to climate change.
William Hague said:
"The Prime Minister has promised that this coalition will be the greenest British government ever. We face no greater challenge than the need to move rapidly to a low carbon global economy, while dealing with the political and economic stresses arising from the change in climate that is already inevitable. Climate change is an urgent foreign and national security concern. As I have previously made clear, it is one of the two central challenges which the international community must overcome and, under this government, it will be one of the top priorities of the Foreign and Commonwealth Office. Success in this endeavour will require the full and imaginative deployment of the assets that British foreign policy can bring to bear. John Ashton's reappointment reflects the importance I attach to this."
Mr Ashton will work closely with the Foreign Secretary in support of the work of the government on climate change and the negotiations in the build up to the UNFCCC meeting in Cancun at the end of the year.
Published 22 June 2010