Foreign Secretary "appalled" by the assassination of Governor of Punjab
Foreign Secretary William Hague said that the UK will continue to work closely with the leaders of Pakistan to try to bring about a more stable, democratic future for Pakistan.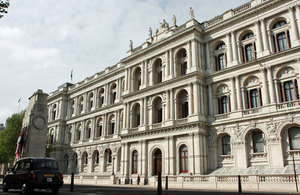 Speaking to the media today, the Foreign Secretary said:
"Well I'm appalled by the assassination yesterday of Salman Taseer who was an internationally respected figure and someone who regularly spoke out against extremism. So this is a sad loss not only for Pakistan but for the wider world.
And today on the day of his funeral obviously our thoughts are with his friends and his family but also with the people of Punjab and the people of Pakistan who deserve a stable and democratic future. And the United Kingdom this year will continue to work closely with the leaders of Pakistan to try to bring about a more stable, a democratic future for Pakistan as a country that will be able to have the will and capacity to fight violent extremism as well as be able to have a more prosperous future."
Speaking on 4 January, the Foreign Secretary said:
"I am shocked to hear of the assassination of Salman Taseer, Governor of Punjab, in Islamabad on 4 January. His death will be a loss to the leadership of Pakistan. On behalf of the British Government I send my condolences to Mr Taseer's family, friends and colleagues."
Published 5 January 2011